Where we're located

All Japan Real Estate Association
Zennichi Kaikan, 3-30 Kioi-cho Chiyoda-ku, Tokyo 102-0094
TEL 03(3263)7030 FAX 03(3239)2198

Real Estate Guarantee Association
Zennichi Kaikan, 3-30 Kioi-cho Chiyoda-ku, Tokyo 102-0094
TEL 03(3263)7055 FAX 03(3239)2159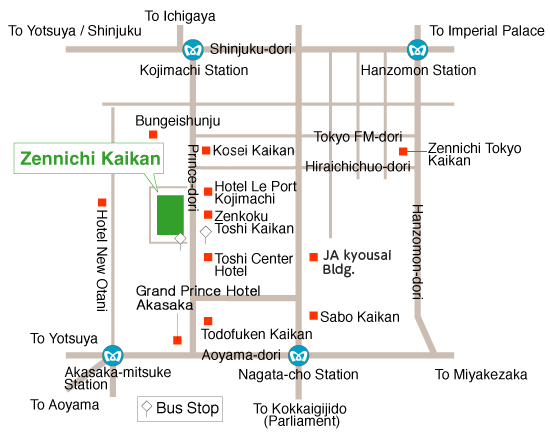 Zennichi National Real Estate Congress
Held since 1967 under Zennichi sponsorship, the congress serves as a venue for collaborative research on domestic real estate and attracts many participants from a variety of sectors. Lectures have been held since the 30th session of the congress in order deepen awareness among the general public with respect to real estate.
Subway
Yurakucho line, Kojimachi station, 3-minute walk from Exit 1.
Yurakucho line or Hanzomon line, Nagata-cho station, 5-minute walk from Exit 4 or 5.
Marunouchi line or Ginza line, Akasaka-mitsuke station, 7-minute walk from Exit D (Kioi-cho exit)
Namboku line, Nagata-cho station, 4-minute walk from Exit 9.
Municipal Bus
Get off at Hirakawa-cho Ni-chome (Nihon Toshi Center Mae) and you're there.
(Shimbashi station~Ichigaya station~Otakibashi bus depot)