>
Real Estate Guarantee Association

Mission
The mission of the association is to protect the interests of consumers and ensure proper management and fair transactions in the real estate industry. It accomplishes these objectives in accordance with the Building Lots and Buildings Transaction Business Law by providing grievance resolution services, reimbursement of business guarantee funds, education and training, deposit guarantee and custodial services, and other related services.
Principal Activities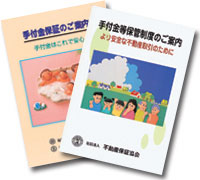 Resolution of grievances related to real estate transactions made to members by real estate agents representing the other party to the transaction.
Training, courses and lectures for real estate transaction specialists and others involved in real estate transaction services.
Repayment of debt arising from a real estate transaction with a member and owed by the other party to that transaction (including when the party enters into the transaction before becoming a member).
Services (general guarantee services) to jointly guarantee repayment obligations and other real estate transaction related debt when a member involved in a real estate transaction receives payment, assumes an obligation to repay a deposit, or assumes other types of monetary obligations related to the transaction; and custodial services for deposits.
Deposit guarantee services for real estate transactions for properties sold through agents in which the member is involved.
Surveys and research, information collection and provision, and publicity for guarantee services for real estate transactions.
Coordination and collaboration with related organizations.
Recommendations to related government offices and related institutions.
Other activities necessary to achieve the association's mission.