>
All Japan Real Estate Association

Mission
The All Japan Real Estate Association (Zennichi) conducts research and development necessary to promoting real estate usage, proposes real estate policy to the Diet and other branches of government, implements educational programs for the general public, and engages in promotional activities. Zennichi also facilitates real estate transactions, ensures that such transactions are safe and fair, promotes the effective use of real estate, and conducts activities in order to contribute to both society and the healthy development of the industry.
Principal Activities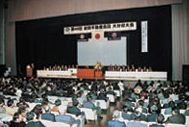 Coordination with domestic industries involved in real estate, exchange of information, and facilitation of the flow of knowledge.
Real estate policy proposals for the Diet, other branches of government, political parties, and related government offices.
Research and surveys on real estate, collection of related documents, and publication of them.
Dissemination of knowledge related to real estate and educational programs for the general public.
Promotion of proper real estate transactions.
Development and modernization of real estate transactions, and promotion of collaboration in this regard.
Training of people involved, or attempting to become involved, in the real estate industry.
Leadership and coordination of various projects for members.
Publication of periodicals on real estate, sponsorship of lectures and training sessions.
Close exchange and coordination with the real estate industries of other countries.
Surveys and research on the management of rental housing.
Other activities necessary for Zennichi to fulfill its mission.